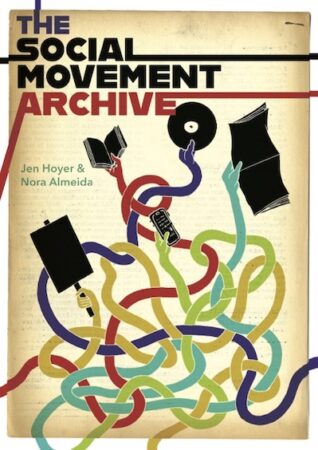 Jen Hoyer, Instructor and Eresources, Technical Services Librarian and Nora Almeida, Associate Professor,  Instruction and Outreach Librarian published The Social Movement Archive with Litwin Books. The
introduction is available open access in Academic Works and the full book is available for purchase from Litwin Books.
In 2-3 sentences, describe your scholarship or creative work to someone unfamiliar with the field.
This publication represents an intersection of Jen and Nora's scholarship that focuses on archival theory, social movement history, and material culture. This is a book about archives but also about cultural ephemera and the role that cultural production and art serves in social movement organizing. This book might interest to archivists and library professionals as well as activists or scholars who study social movements or new materialism.
What makes you particularly proud of this work?
One of the best parts of this project was that it gave us an opportunity to talk to movement activists and artists supporting social movement organizing. We also see this book filling a gap in current literature about alternative archives–many scholars are advocating for more inclusion of the perspective of content creators in archives by involving them in description but rarely include these perspectives in their own scholarship.
Add anything else you'd like the reader of our blog to know about your work
This book is illustrated and contains full color reproductions of primary source material created by contributors. People interested in this book might want to know more about the social movements represented which include: women's liberation, disability rights, housing justice, Black liberation, anti-war, Indigenous sovereignty, immigrant rights, and prisoner abolition, among others.