Name of Hotel: The Golden View Hotel – 655 11th Ave, New York, NY 10036
Hotel Mission Statement:  Be our guest to come and see  beautiful Manhattan  skyline and Hudson River vistas through the eyes of Golden View Hotel. Our hotel offers an exciting collection of accommodations filled with personal touches, outstanding amenities and views that inspire a sense of infinite possibilities.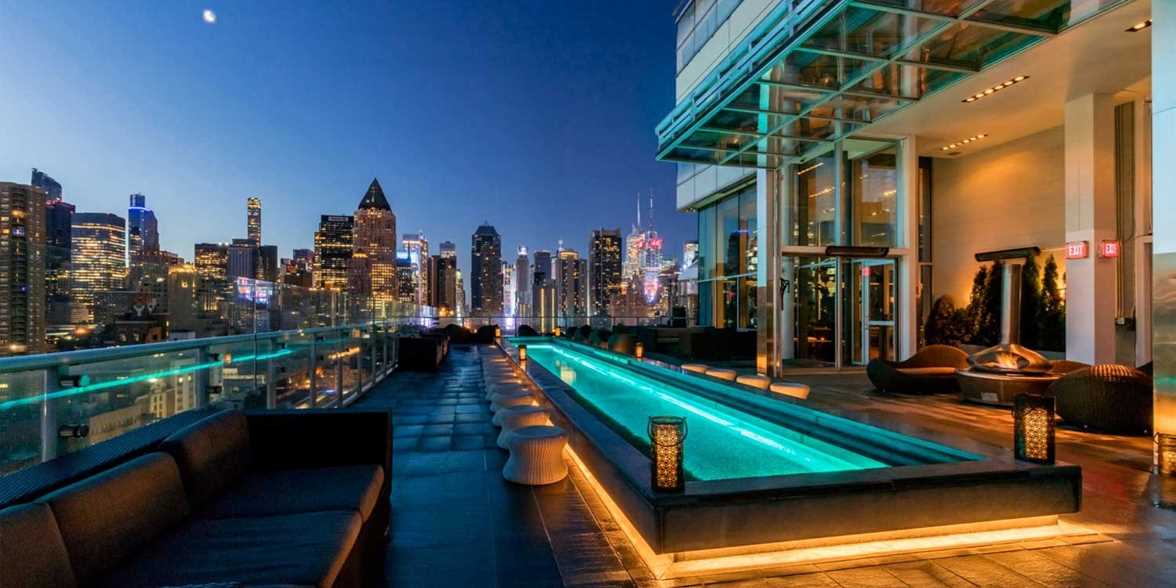 Three key psychical features:
The hotel provides all guestrooms showcase views of Manhattan or the  Hudson River (or both) through over sized  windows- most have sunset vistas, too.
 Our hotel provides spa services for the guests. Our signature exotic ginger and lime salt scrub that guests enjoy with muscle-loosening massage provides by our very own Ms Liza who creates this amazing salt scrub. The scrub product is only available for guests who want to enjoy with spa services.
 All paintings in the hotel rooms done by local artists.Hotel wants to promote the art of talented artists of New York
Three Key Services:
Healthy Travel: Our hotel provides with custom Public bikes for a ride around the town to explore beautiful New York. Our hotel bikes are there for all guests to enjoy. Just ask the front desk agent during check-in.
It gives us piece of mind to know that all our guests have the body and minds at peace. That's why we supply a yoga mat in every room, free of charge.
We are pet friendly hotel. Let us accommodate you and your little friends with you. We also offer dog walking services.
Staffing:
The Golden View Hotel understands the importance of identifying individuals who are  motivated, talented and loyal employees ho find pride in delivering positive experiences for both clients and guests. The below list provides a better understanding of Golden View Hotel's recruitment process.
Check out  our available positions  and upcoming recruitment events online.
Fill out the application.
During the screening of applications , qualified individuals will be contacted by the Hiring Manager.
Phone or Video interview.
After the phone interview people will be called to come for formal interview with managers. The interview could be individual or group interview.
Reference check in. All new associate must pass a criminal background check.
Acceptance proceed. All associated will be in contact with the hiring manager regarding the job expectations, orientations, training.
Rewards:
The employees who perform the best job at every department every month will get a reward $50 dollars to check. The hotel also will hang their pictures, so everyone can see. The hotel creates every year "Thank you party" for all employees , who can also bring their family to enjoy the dinner.
Training:
Training process should take around two weeks. People would get training under the manger of the department they will work, and also receive training from employees who have been awarded the best employees for several times. The hotel also provides withe the video training after they complete the actual training.
Ethical Self Evaluation:
We are the hotel that promotes the highest standard of professional ethical norms and values for both our employees and guests. We welcome everyone.
The Golden View Hotel offers an array of ADA accessible rooms. All rooms designs with all accommodations that ADA standards required.
Marketing Persona:
Eric and Jenna want to come to explore New York. They  never have been in the city before so they looking exciting place to stay. They want to find hotel that provides with an amazing view of the city, try all new different types of the restaurant, visit the rooftop and do some shopping. The Golden View hotel delivers all that. All guest rooms have over sized windows that guest have views of Manhattan and Hudson River or both. Our hotel locates in Hell's Kitchen area that famous with all small authentic restaurants around.   We also have a restaurant in the hotel with options of rooms service. Our hotel  close to 34 street where our guests can find any types of shopping, for example Macy's. And our hotel has  rooftop bar lounge that open all year. We will be glad to host Eric and Jenna and fulfill all their wishes.
Marketing Editorial Calendar:
The Golden View Hotel opens 01 December 2018.
Post 1 –  15 November 2018
Title: Recruitment Event
We will post a blog that we will have recruitment event and  welcome people to come for interview. When we gather people we will conduct the interview in group style.
Post 2-  25 November 2018
Title: Soft Opening
We will post that we have a soft opening of our hotel and invite people to come to check our hotel. We have a little performance, we have a group of artists who painted pictures for our hotels rooms to come, our restaurant will have appetizers passed around and we will have a band to perform on the rooftop.
Post 3- 01 December 2018
Title: Grand Opening
And officially our hotel is open to serve to our guests. We cant wait to welcome  and meet everyone to our property.
Post 4-   05 December 2018
Title: Christmas Spirit
We will have a beautiful  Christmas three to set up in the lobby to welcome guests and pass Christmas Spirit to our guests and staff.
Post 5 – 10 December 2018
Title: Art gallery show
We will have an honor to host our dearest friend Mr Smith annual gallery show in our Mint restaurant. Mr Smiths beautiful paintings are our pride that we provide to all our guest rooms.
Hashtags:
Staff Tags:
#GoldenViewHotel
#HudsonYards
#AmazingView
#Hell'sKitchenthebest
#Hotelwiththeview
#FreeBiking
#LimeandGingerScrub
#LuxuryHotels
#Travelgram
#ConciergeLife
Influencer Tags:
#HusdosnYards
#TheGoldenViewHotel
#Petsfriendly
#TheBestHotel
#RooftopLounge
#Hotelwiththeview
#Photooftheday
#Hotelroom
#Luxurylife
#Spa
Signature Drink:
Baby its cold outside, so warm up with the perfect winter signature drink. Our Rooftop Mint Lounge presents an amazing signature drink "Chilled Coco Martini"
Service Recovery:
Service recovery is an opportunity to create raving fans, but at the same time, it offers the chance toe valuate what processes or systems led to the issue in the first place.
Service Recovery:
The gusts is checking out from the room and when he receives the bill he sees that hotel charged him for movies $9.95. The guest told the front desk agent that he didn't watch any movies and there is mistake, and he doesn't want to pay for it. The front desk agent insisted that he did watch the movie. The guest is upset with the service of the hotel an asked for the manger. When manager came she listened to guest, she apologized and checked the system. She found that the room next to him watched the movie's but prior night system had an issues and probably that's why it was added to the bill. The manger right away took the amount out off and she granted the guest with 20 percents discount  of the bill and offered dinner voucher for the restaurant in the hotel.