An artist that has made a cultural impact in history is Gustav Klimt. Klimt is an Australian painter from the 1880's that is known for the patterns and shapes he uses in his paintings. I admire his work and use of colors. His paintings are bold and full of life as he uses a variety of textures and patterns. I find that his style is very distinct and it's interesting how most of his work contains a gold yellow but each painting is very different from one another. This golden style was inspired by the Byzantine mosaics of San Vitale (Gotthardt 2018). He has the ability to capture feelings in his painting as well as you get certain moods and emotions from each of his pieces. He was also responsible for the Vienna Secession movement.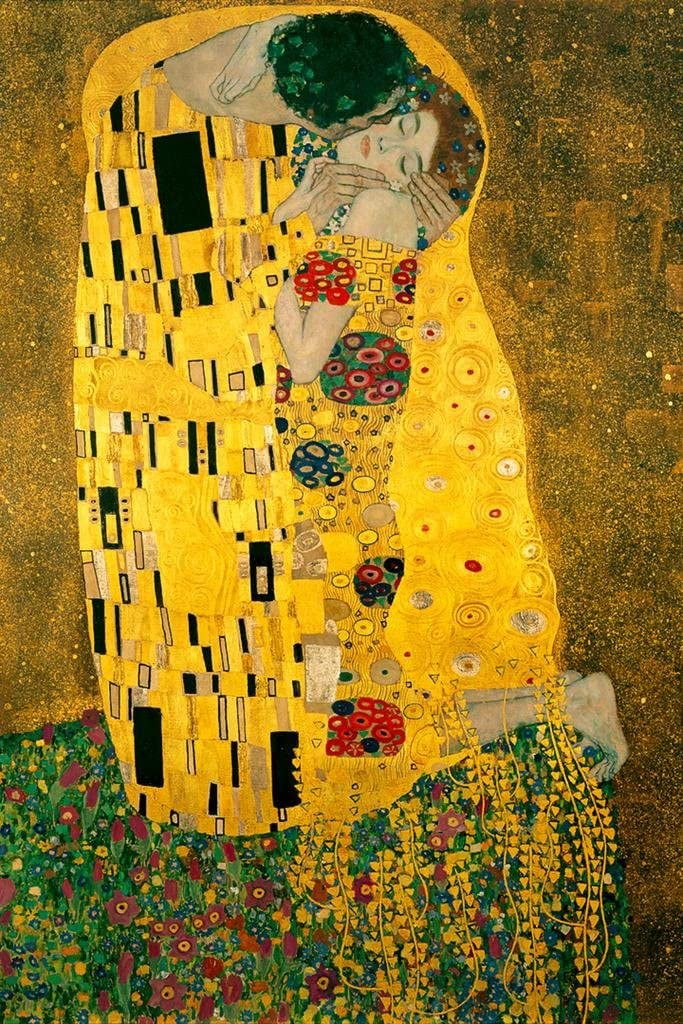 Klimt inspired other artists with his work and the symbolism behind it. He became the leader of the Vienna Secession movement because of the rebellious nature of his work. He would often depict erotic images and include sexual connotations (Gotthardt 2018) . During that time he had many who admired his work as they recognized his work to be expressive and atmospheric rather than lewd. By experimenting with these untouched themes it also grabbed the attention of European Expressionists (Gotthardt 2018). However, the nudity in his paintings was also subject to controversy as some of his work was not allowed to be exhibited and to this day still have not been seen in public display. Klimt did not see himself as a revolutionary artist but rather someone who wanted to bring attention to the art outside of Austria.
Klimt grew up in the outskirts of Vienna in Baumgarten on July 14, 1862. His family struggled financially as he was the second of seven children. Despite this he had a passion for art and his brother, Ernst Klimt, shared this passion as well as they both wanted to become drawing teachers (Neuegalerie). In 1876 Klimt took the entrance exam to Kunstgewerbeschule and he received a scholarship for the Vienna School of Arts and Crafts as an architectural painter. In 1882 Klimt and Ernst set up a studio with Franz Matsch and they all did commissions throughout Europe (Blatty 2014) . Unfortunately, by late 1892 both his father and Ernst passed away leaving Matsch and Klimt unable to keep up with the work demand (The Art Story). This caused them to grow apart and Klimt began developing his own style. It was soon after that he began doing his own commissions and attracting larger clients.
Klimt's paintings received both approval and protests from the public. In 1894 Klimt and Matsch were commissioned to make ceiling paintings for the Great Hall of the University of Vienna. With their different art styles they decided to work separately and thus Klimt's artwork began to be exhibited. During the Seventh Secession exhibit in 1900 he presented his first piece, Philosophy, which received backlash and was not even presented due to a petition denying its installation. However, later on he would receive a gold medal for it in the Exposition Universelle. For his second painting, Medicine, it was exhibited in 1901 but was once again met with backlash. His final piece, Jurisprudence, had the same reaction of more negative than positive reviews (Neuegalerie). In 1903 Klimt had a chance to show his work again as the Vienna Secession was founded by Hoffmann, Koloman Moser, and Fritz Waerndorfer. He was later made the Secession's founding president (The Art Story). Although his work was too lewd to be displayed in the Great Hall it still had a permanent display in the Moderne Galerie.Klimt would later on have his work displayed in other exhibitions and even had his own following within the Vienna Secession deemed the Klimt-Gruppe (Neuegalerie).
Overall, Klimt's accidental rebellion created a new path for artists as it broadened artists' views. He is someone who paints what he believes in and disregards the hate he receives. Klimt is an admirable artist who did what others could not. He is someone who inspires and encourages me to broaden my knowledge on different techniques and art styles. Nowadays you don't see revolutionizing art anymore and it is interesting to learn about the artists that led the revolution.
Sources
Blatty, David. "Gustav Klimt." Biography.com, A&E Networks Television, 16 Aug. 2019, https://www.biography.com/artist/gustav-klimt#:~:text=Born%20in%201862%2C%20Austrian%20painter,Portrait%20of%20Adele%20Bloch%2DBauer.
Gotthardt, Alexxa. "What You Need to Know about Gustav Klimt." Artsy, 26 Mar. 2018, https://www.artsy.net/article/artsy-editorial-gustav-klimt#:~:text=Klimt%2C%20the%20leader%20of%20the,canvases%2C%20murals%2C%20and%20mosaics.
"Gustav Klimt Biography, Life & Quotes." The Art Story, The Art Story Contributors, 11 Nov. 2011, https://www.theartstory.org/artist/klimt-gustav/life-and-legacy/ .York. "GUSTAV KLIMT." Neuegalerie, NeueGalerie New York, https://www.neuegalerie.org/collection/artist-profiles/gustav-klimt.