New York City is the place to be! It is the home to a population of about 18.8 million people. NYC is full of endless places to visit. The city is one of the most popular tourist attractions. It is also known as the Big Apple, which originated in the 1920s. New York City is the district of finance, fashion, media, culture, sports, and many more. For years, the city has been known for its diverse history of sports. New York City has some of most famous sports arenas and stadiums, professional teams, and amazing landmarks.
Navigating through New York City
When traveling in NYC, public transportation can be found everywhere. Most forms of transportation in the city are ran by the Metropolitan Transportation Authority (MTA). If taking NYC Transit, you should invest in a MetroCard. This card can be used on most buses and trains in New York City. A single ride fare is $2.75, however the price varies when you decide to travel more than once. Most people purchase a weekly or monthly MetroCard, ranging from $33 to $127, because it more convenient for travelers. Some of the train lines you may come across are the 1, 2, 3, 4, 6, A, C, F, Q, and L. Most trains run through Manhattan, which is where most of tourist love to visit. More options to getting around the city are taxi cabs, dollar cabs, and Uber/Lyft. Unfortunately, dollar cabs are actually $2, and prices of taxi cabs and Uber/Lyft vary by distance. The service usually runs on time, unless there are serious delays due to weather or construction work.
New York City also provides access has to railways and ferry trips. The rail can take you many different routes by using NJ Transit, LIRR, PANYNJ (Port Authority), the MTA Metro-North, and many more. There is also the PATH train at New York Penn Station, as well as Amtrak. The NYC Ferry has five routes, excluding their special summer route to Governors Island. The service on these lines are almost always accurate and reliable. Taking public transportation in NYC is indeed an experience.
Where to Stay?
In the city that never sleeps, lodging options are cozy and welcoming. There are many choices of accommodations to choose from.
– Address: 1170 Broadway, New York, NY 10001
– Rating: 5-star hotel
– Price: Starting from $200 & up
– Address: 190 Allen St, New York, NY 10002
– Rating: 4-star hotel
– Price: Starting from $106
– Address: 44 W 29th St, New York, NY 10001
– Rating: 3-star hotel
– Price: Starting from $107
For B&B, Airbnb, and other accommodations click the following links:
https://www.booking.com/bed-and-breakfast/index.html
https://www.hotels.com/?locale=en_US&pos=HCOM_US&rffrid=sem.hcom.US.google.003.00.03.s.kwrd=c.313350153068.66082596681.1624534025..kwd-11212371.9004339..hotels.EAIaIQobChMIzdyqneng7QIVGczICh0FOwlzEAAYASAAEgK7v_D_BwE.aw.ds&PSRC=G21&gclid=EAIaIQobChMIzdyqneng7QIVGczICh0FOwlzEAAYASAAEgK7v_D_BwE&gclsrc=aw.ds
https://www.tripadvisor.com/Hotels-g60763-New_York_City_New_York-Hotels.html
Where to Eat?
If you're visiting New York City, there's much more to the city than chain restaurants. Get the chance to enjoy your trip, trying a variety of foods.
– Enjoy high-end smoked fish and lox on a bagel at this historical family-owned shop. They've been serving New York-style specialty foods since 1914.
– A two brother-owned food truck, serving juicy tacos and sauce. Located in Jackson Heights, Queens.
– Looking for a comfortable night of elegance? Visit The Capital Grille, the upscale steakhouse, for a culinary experience.
– A more modern steakhouse and chic lounge, visit STK. This is definitely a top pick for a night of fine dining.
– A nightclub/ Pan-Asian eatery that is known for its trendy crowds. Come dressed your best, eat and dance the night away.
Visiting for Sports?
New York City has many famous arenas. Due to COVID-19, some places may not host events, but are still open. Here's some amazing options:
Madison Square Garden
The Madison Square Garden arena is the home of The New York Knicks, one of NY's famous basketball teams. This arena is temporarily closed, but it's beautiful architectural structure can be viewed from the outside. Its location is unique because it is in the middle of Manhattan, Pennsylvania Plaza. The arena's history stands high and most famous because of its many historical events.
Located: 4 Penn Plaza, New York, New York
Barclays Center
Barclays Center is the home of The Brooklyn Nets, New York Liberty, New York Islanders, and the LIU Brooklyn Blackbirds. It a multi-purpose indoor arena with restaurants, a bank, mini shops, and more. Barclays Center tickets can be purchased from $9 – $141, but prices vary depending on the event.
Located: 620 Atlantic Avenue, Brooklyn, New York
Yankee Stadium
Visit the Yankee Stadium and take a tour around to learn about its history. It is the home of the New York Yankees, one of the world's greatest and famous sports teams. There's so much seating, ticket prices can range from $10 – $510.
Location: 1 E 161 Street, The Bronx, New York
Things to do in NYC (Masks are a MUST!)
Visit the Museum of Illusions
The Museum of Illusions is a fun and adventurous experience. It is located in the west side of Midtown Manhattan. It is enjoyable for social encounters and full of entertainment. It is most suitable place for people of all ages. Set a date for a family trip, or a solo, and explore the world of illusions.
Take a Helicopter Tour
A helicopter tour in NYC starts at $209. It is a 15 minute chopper ride, with the perfect sky-high views. Boarding is located at the Downtown Manhattan Heliport. This is a 100% guaranteed enjoyable experience. It is more visual than a walking day tour.
Ice Skate at Rockefeller Center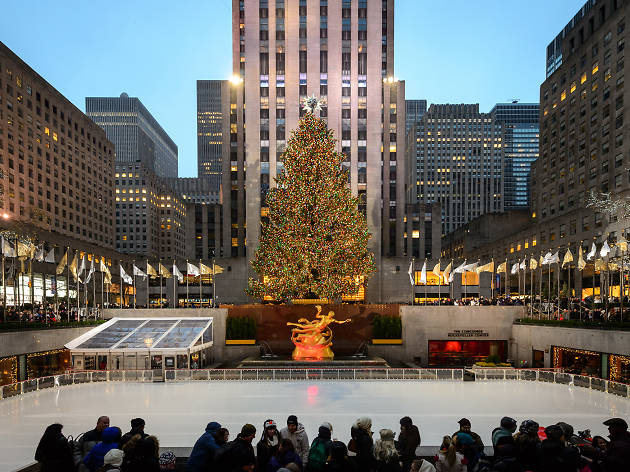 The Rink at Rockefeller Center is a calming experience. You get to skate around while enjoying the view of the golden statue of Prometheus. Due to COVID-19, they are offering socially-distant ice skating with a capacity reduction. The tickets to skate begin at $22.
Work Cited
https://www.barclayscenter.com/
https://www.mlb.com/yankees/ballpark
https://www.msg.com/madison-square-garden
https://www.nycgo.com/transportation/penn-station/
https://www.rockefellercenter.com/attractions/the-rink-at-rockefeller-center/