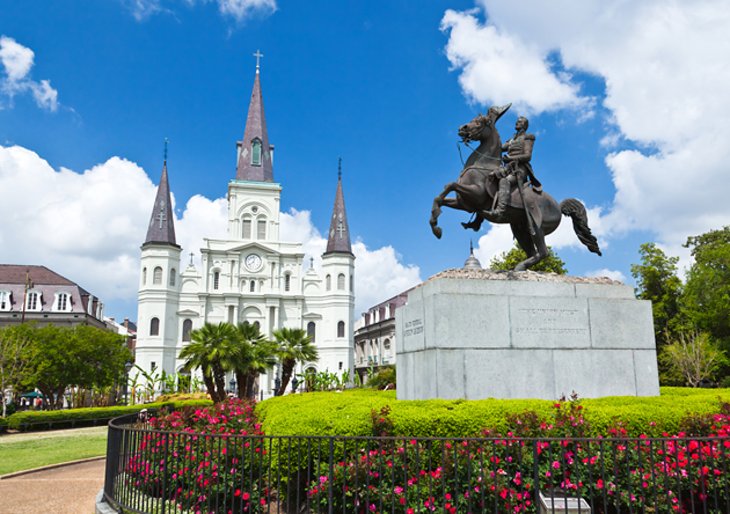 36 Hours in New Orleans
Amber Rutland
---
10am – Arrive at Royal Sonesta New Orleans. Drop off bags at the lobby.
The Royal Sonesta is a local landmark hotel that opened its doors in 1969. It is located on the bustling Bourbon Street, one of the main areas of the New Orleans' French Quarter. Having recently underwent a 30 million renovation, the hotel includes 483 guest rooms, where a good number of them provide scenic views of the hotel's courtyard, pool area, and even Bourbon Street itself.
11am – Have lunch at Cafe Amelie.
Café Amelie is a small restaurant located on another one of the French Quarter's landmarks; the former home of Princess Alice, the first princess of Monaco.
12pm – Visit the 1850 House and the Cabildo. Part of the Louisiana State Museum, the 1850 House shows visitors the lavish lifestyle of middle and upper-class families in New Orleans' most prosperous time periods. The Cabildo once served as the center of New Orleans government as well as Louisiana's Supreme Court. It presents a lot of information about the area's early history.
1pm – Snack Break at Antoine's Annex.
Antoine's Annex is a small café run by the historical Antoine's Restaurant, where coffee drinks and pastries are served.
2pm – Browse at the many shops and galleries along Royal Street, and watch the many street performers at almost every corner. See the cathedral in Jackson Square
3pm – Return to hotel, check into rooms. Rest for about 1-2 hours.
5pm – Gather in lobby.  Head to Arnaud's restaurant. Arnaud's is another historical fine-dining Creole restaurant and landmark in the French Quarter that is almost 100 years old. Arnaud has a Mardi Gras Museum within their establishment that features costumes from celebrations during the early-mid 1900's. There will be a small tour before dinner at 5:30pm.
8pm – Visit the many tourist shops open along Decatur Street. (Pepper Palace, Serendipitous Masks, Magnolia Praline Company, etc.)
9pm – Browse the Frenchmen Art Market.
It is an outdoor marketplace that hosts many artistic vendors, from paintings to photography to crafts and more.
10pm – Jam a Jazz session at The Maison.
The Maison is one of the many bars/lounges along Frenchmen Street that has performances by local musicians on an almost-nightly basis.
2am – Return to Bourbon Street, option of a late-night drink or watching drunkards. Bourbon Street is known for their bars and their drunks.
————————————————————————————–
7am  – Luggage Packing.
8am
9am– Breakfast at Cafe Soule, a local café very close to the hotel.
10am – Check-out early. Leave baggage with front desk.
11am
12pm – Swamp Boat Tour with Cajun Pride Tours. About 1 – 1 ½ hour drive away from the French Quarter, Cajun Pride is one of the few businesses that takes groups out into the Louisiana swamps to see local wildlife.
1pm – Tour ends at 1:30pm
2pm – Quick lunch at fast food drive-through.
3:20pm – Tour at Laura Plantation. Laura Plantation is one of the few historical buildings left of it's kind. Run by descendants of the later owners (supposedly purchased –after- slavery ended in Louisiana), the grounds are kept in good condition for visitors to view most of the property.
4pm –Tour Ends
5pm – Return to New Orleans, have dinner at Royal House Oyster Bar.
Royal House is a popular seafood and cajun spot, located at what used to be a popular Italian restaurant before Hurricane Katrina.
6pm
7pm – Return to hotel; retrieve bags, visit the Jazz Playhouse inside Sonesta for some last minute jazz and drinks.
8pm
9pm – Make one last stop, at Café du Monde for coffee and beignets.
10pm – Depart for airport