Figure #1 (Farmer,2020)
Pakistan currently has a population of 223.6 million with a GDP of 278 billion USD, making it the fifth most populated country. Since Pakistan is still relatively a new country, its population speaks various dialects, "people speak as many as 74 languages" (Tayyab. A, 2019, Samaa. tv), and it's also home to various different ethnic group. However, the national mother tongue of Pakistan is considered  Urdu.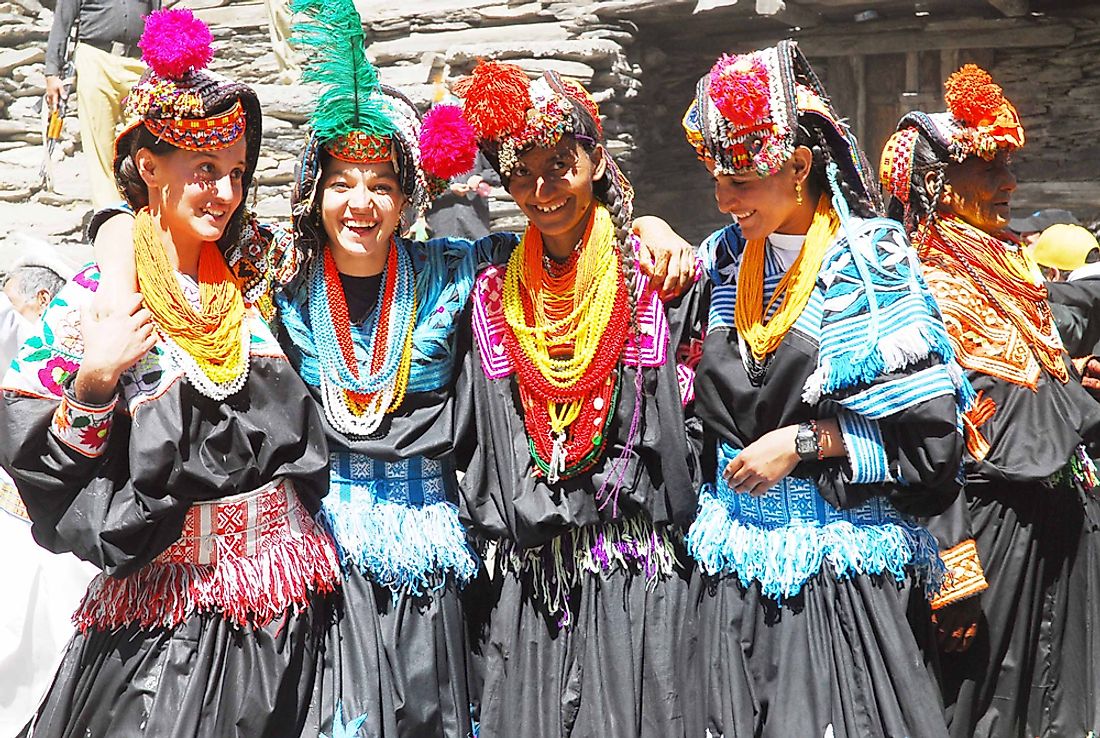 Figure #2 (Misachi,  2019)
Since Pakistan has four province, each province carries it's own unique ethnic groups. One of the largest ethnic group is Punjabi, which makes up 45% of the Pakistan's population. "The group belongs to the Indo-Aryan ethnic group" (Misachi, 2019). The second ethnic group is Pashtun, the tribes belongs to East Iranian, which makes up 15% of Pakistan's population. Other ethnic tribes are Sindhi that makes up 14.1% and Saraiki that makes up 8.4% of the Pakistan's population.  
The currency used in Pakistan is known as Pakistani Rupees, with the PKR abbreviation. According to the Xe currency converter,  A US dollar is worth approximately 160 Pakistani rupees. When it comes to import and export Pakistan has strict tariff rules, it maintains the highest tariff rates. However, new policy guidelines are proposed related to the 2020-2021 budget. Tariffs on raw materials, intermediate, and capital goods will be reduced. 
According to Daily life and social custom, when it comes to natural resources, Pakistan's land is rich in iron ore, petroleum copper salt limestone and extensive coal. Pakistan is also well known for its textile industry such as Cotton and Rayon. 
Largest Cities in Pakistan
| # | CITY NAME | POPULATION |
| --- | --- | --- |
| 1 | Karachi | 11,624,219 |
| 2 | Lahore | 6,310,888 |
| 3 | Faisalabad | 2,506,595 |
| 4 | Rawalpindi | 1,743,101 |
| 5 | Multan | 1,437,230 |
| 6 | Hyderabad | 1,386,330 |
| 7 | Gujranwala | 1,384,471 |
| 8 | Peshawar | 1,218,773 |
| 9 | Rahim Yar Khan | 788,915 |
| 10 | Quetta | 733,675 |
| 11 | Muzaffarabad | 725,000 |
| 12 | Battagram | 700,000 |
| 13 | Kotli | 640,000 |
| 14 | Islamabad | 601,600 |
| 15 | Bahawalpur | 552,607 |
| 16 | Sargodha | 542,603 |
| 17 | Sialkot | 477,396 |
| 18 | Sukkur | 417,767 |
| 19 | Larkana | 364,033 |
| 20 | Shekhupura | 361,303 |
| 21 | Bhimbar | 342,900 |
| 22 | Jhang Sadr | 341,210 |
| 23 | Gujrat | 301,506 |
| 24 | Mardan | 300,424 |
| 25 | Malir Cantonment | 300,000 |
| 26 | Kasur | 290,643 |
| 27 | Mingora | 279,914 |
| 28 | Dera Ghazi Khan | 236,093 |
| 29 | Sahiwal | 235,695 |
| 30 | Nawabshah | 229,504 |